SFE-25
Product Introduction
Wire and Strip Stamping & Forming Machine
Fast production rate
Precise and stable
Features:
1. Hybrid Machining Process: AMAX wire/strip machine is CNC Servo Control, with I/O port to connect to external device, such as tapping, welding, press machine and so on. That enables Amax user to edit program to launch external device to work with AMAX machine. Nowadays our customers need not only single machine, but also automatic production line. For saving labors or future requirement, Amax machine is what you really need.
2. Save material: Press machine requires material chain to keep feed-in continuously. Otherwise, to dispatch an operator to hand material to feed piece by piece will be worse choice. Fortunately, Amax machine can run without material chain. Hence, our machine uses narrower material than press machine. For the same component, Amax users will spend much less material than press machine. That is why our customers have saved a lot comparing to another competitor!
3. Easy maintenance and set-up: The die and tool position and stroke of press machine are almost fixed. But those of Amax machine and stroke can be set easily, especially for the adjustment of some specific die and tool.
4. Automation production line available: The features of Amax machine enable our machine can be part of automation production line. Or we can build automation production line for your specific purpose (Turnkey Solution).
Comparison with similar machines
1. Spring coiler: more suitable for forming round wire, can not preform punching operations, production speed relatively slow.
2. Press: single movement, independent adjustment of a single dimension is inconvenient, the whole tool-set needs to be changed, not suitable for connecting external equipment, large amount of waste, high risk to the operator
Future development
At present moment, the forming machine accounts for only a small portion of the market because qualified technical personnel is scarce. However, its production efficiency, stability, multiple functions, and safety is superior to those of the press. In the future, as production technologies imporve, forming machines will gradually take over the press market. As technical personnel gradually becomes familiar with forming machines, they are becoming more widespread. Therefore the market share of the forming machine is expected to see a dramatic increase.
Disc Braking, Hose Clamp for Vehicles, LED Tube Light Clamp, Pen Clip, Outer Yoke, Spring Clamp, Mild steel MCB Terminal, Headlight clip (u- clip), Fixed Contact, and so on.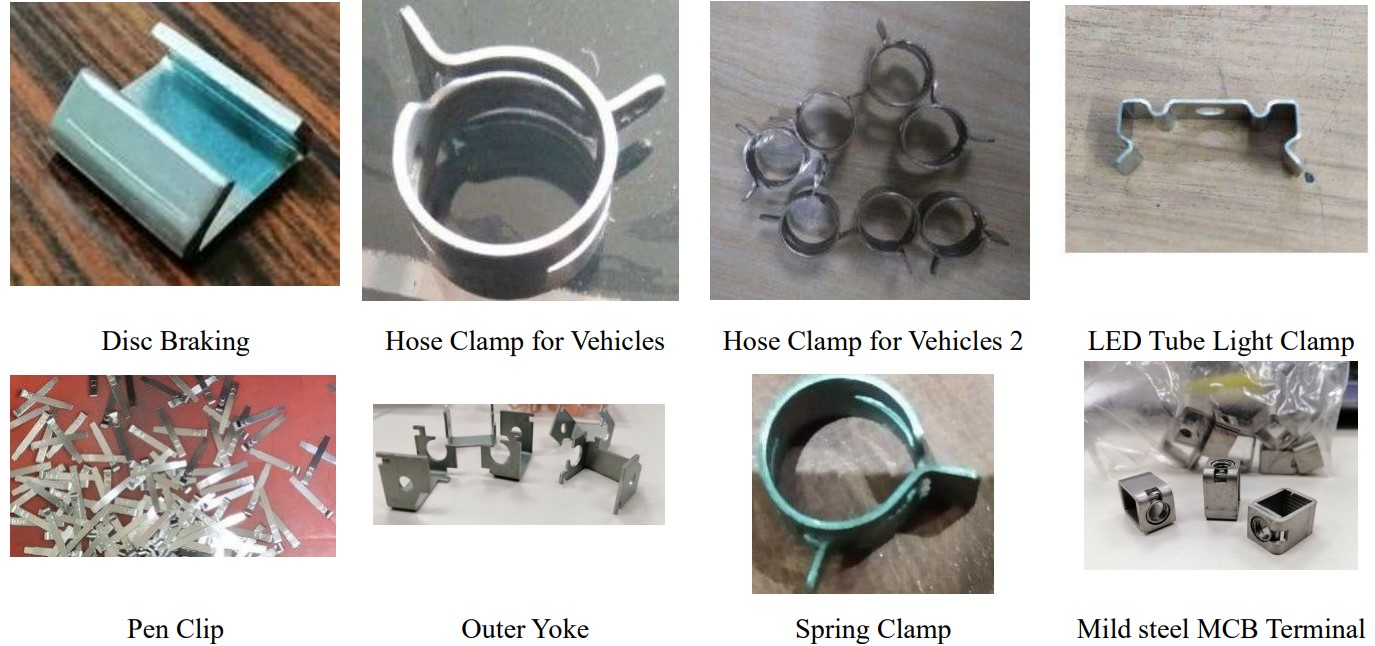 Model Number
SFE-25
Wire Capacity(mm)
0.6-2.5
Stirp Capacity(mm)
0.3-1.2X30
Hardness of Wire(Carbon)
80C
Max Feed length (mm)
200
Axes
1
Slide Accessories
5
Motor capacity(ton)
Press
10
slide
1.8
Dimension(mm)
1850x900x1880
Weight(kgs)
1350
The specifications are subject to change without notice.